FREDERICK LESSNER
Sixty Years in the Social-Democratic Movement

Before 1848 and After. Recollections of an Old Communist.
---
Source: Sixty Years in the Social-Democratic Movement, The Twentieth Century Press, London, 1907 (reprinted by Carl Slienger, London, 1976)
Transcription/Markup: Dave Allinson, 2019.
---
Frederick Lessner was a staunch supporter of Marx and Engels from 1847 onwards and became one of their close friends. He was involved in the revolution of 1848-9 and in building the International Working Men's Assocation and other socialist organisations in Germany and England. These memoirs provide an invaluable first-hand account of the political battles of the period as well as an insight into the Marx household.
At least part of the book seems to have been first published in German as Vor 1848 und nachher. Erinnerungen eines alten Kommunisten. in Deutsche Worte vol. XVIII, Vienna, 1898. Lessner says that the translator for the English edition was 'our comrade Thalmeyer'.
Contents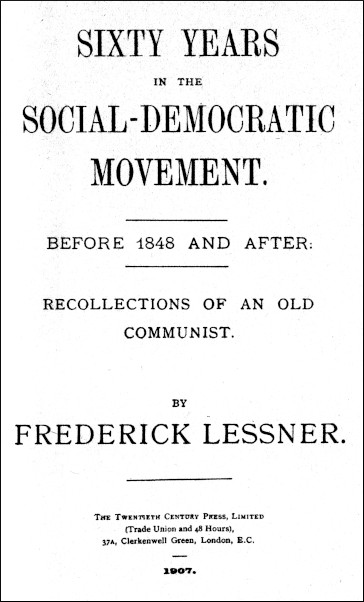 Foreword
Chapter I
Chapter II
Chapter III
Chapter IV
Chapter V
Chapter VI
Chapter VII
Chapter VIII
Chapter IX
Chapter X
Chapter XI
Chapter XII
Chapter XIII
Chapter XIV
Chapter XV
In Remembrance of Karl Marx
In Remembrance of Frederick Engels

---