A. Lozovsky
Program of Action of the Red International of Labour Unions
---
Originally Written: August-October 1921
Source: Program of Action of the Red International of Labour Unions, Red Flag Publications, Montreal, Canada, 1978
Transcription/Markup: Brian Reid
Proofreader: Chris Clayton
Public Domain: Marxists Internet Archive (2007). You may freely copy, distribute, display and perform this work; as well as make derivative and commercial works. Please credit "Marxists Internet Archive" as your source.
---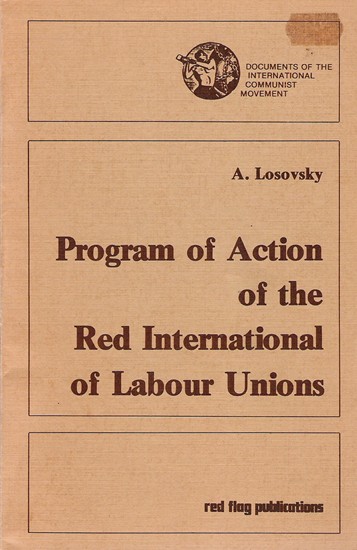 Introduction
Preface

Chapter I. The deepening of the class struggle
Chapter II. Direct action
Chapter III. Trade unions and industrial unions
Chapter IV. Factory and mill committees
Chapter V. The fight against unemployment

Chapter VI. Factory closings and reductions in work hours
Chapter VII. Mill and factory occupations
Chapter VIII. The standard of living of the masses
Chapter IX. The capitalist tactic of cutting wages
Chapter X. Women in industry

Chapter XI. Collective contracts
Chapter XII. Employers' White Guards
Chapter XIII. Workers' self-defence organizations
Chapter XIV. Control of production
Chapter XV. Workers' participation in profit-sharing

Chapter XVI. The militarization of factories
Chapter XVII. Conciliation boards and binding arbitration
Chapter XVIII. Fiscal policy
Chapter XIX. Reforms and revolution
Chapter XX. Unity of the revolutionary front

Chapter XXI. To destroy or conquer the unions
Chapter XXII. Reformist strategy and revolutionary strategy
Chapter XXIII. Conclusion
---