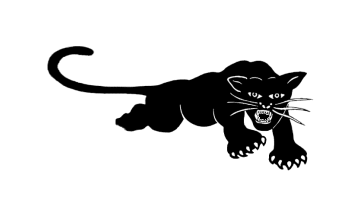 The Black Panther Newspaper
---
The Black Panther was the official newspaper of the Black Panther Party. It began as a four-page newsletter in Oakland, California, in 1967, and was founded by Huey P. Newton and Bobby Seale. It was the main publication of the party and was soon sold in several large cities across the United States, as well as having an international readership.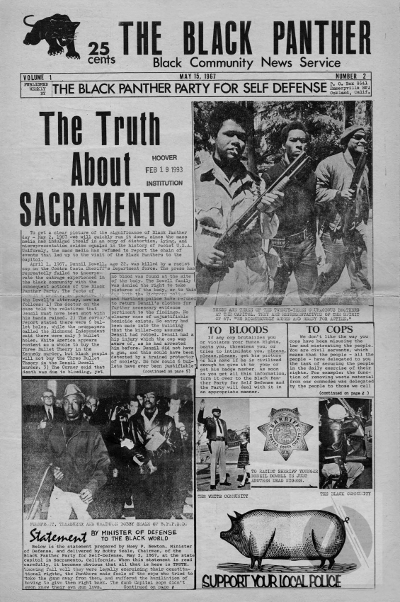 The newspaper distributed information about the party's activities, and expressed through articles the ideology of the Black Panther Party, focusing on both international revolutions as inspiration and contemporary racial struggles of African Americans across the United States.
The Black Panther Party maintained a commitment to community service including various "survival programs" developed by individual chapters that, by 1969, became part of the national party's "serve the people program" to connect their commitments to basic social services with community organizing and consciousness raising. The Black Panther Party's Intercommunal News Service published The Black Panther Party Newspaper as a critical part of its consciousness raising program.
The Black Panther Party Newspaper is also known as The Black Panther Intercommunal News Service, Black Panther Black Community News Service, and Black Community News Service, was published by the Black Panther Party from 1967 to 1980. The newspaper was most popular from 1968-1972, and during this time sold a hundred thousand copies a week.
An undergraduate student at San Francisco State, Judy Juanita, served as editor at The Black Panther Party Newspaper during the later 1960s. In 1969, two-thirds of Black Panther Party members were women.
In its later years it was used to rally support for members of the party who became political prisoners.
"The BPP newspaper grew from a four-page newsletter to a full newspaper in about a year and [537] issues were printed".
Circulation was national and international. From 1968 to 1971, The Black Panther Party Newspaper was the most widely read Black newspaper in the United States, with a weekly circulation of more than 300,000. It sold for 25 cents. Every Panther was required to read and study the newspaper before they could sell it. As it became nationally circulated, The Black Panther Party Newspaper national distribution center was located in San Francisco, with a distribution team led by Andrew Austin, Sam Napier, and Ellis White. Other distribution centers were in Chicago, Kansas, Los Angeles, New York, and Seattle.
The copies of The Black Panther collected here were made publically available here: https://www.reddit.com/r/communism/comments/4m7axa/a_complete_archive_of_the_black_panther_partys/ In 1968 a copyright symbol started to appear on the masthead of The Black Panther. In investigating this copyright it appears to gone into irrelevancy asnpapers were subsequently filed with regards to the ownership of the copyright with the Copyright Office at the Library of Congress. The Marxists Internet Archive will assume it has fallen into the Public Domain. We welcome any discussion of the legality of this. Please contact us.
For text file of the missing issues, please click here
---
Black Panther: Volume 1, 1967
Vol. 1, No. 6, November 23, 1967
Black Panther: Volume 2, 1968-1969
Vol. 2, No. 5, September 7, 1968
Vol. 2, No. 6, September 14, 1968
Vol. 2, No. 7, September 28, 1968
Vol. 2, No. 8, October 5, 1968
Vol. 2, No. 9, October 12, 1968
Vol. 2, No. 9, October 19, 1968
Vol. 2, No. 10, October 26, 1968
Vol. 2, No. 11, November 2, 1968
Vol. 2, Nos. 12-14, November 16, 1968
Vol. 2, Nos. 15-17, December 7, 1968
Vol. 2, No. 18, December 21, 1968
Vol. 2, No. 19, January 4, 1969
Vol. 2, No. 20, January 15, 1969
Vol. 2, No. 21, January 25, 1969
Vol. 2, No. 22, February 2, 1969
Vol. 2, No. 23, February 17, 1969
Vol. 2, No. 26, March 16, 1969
Vol. 2, No. 27, March 23, 1969
Vol. 2, No. 28, March 31, 1969
Vol. 2, No. 30, April 20, 1969
Black Panther: Volume 3, 1969
Vol. 3, No. 15, August 2, 1969 (issue no printed on paper is incorrect)
Vol. 3, No. 16, August 9, 1969
Vol. 3, No. 17, August 16, 1969
Vol. 3, No. 19, August 30, 1969
Vol. 3, No. 20, September 6, 1969
Vol. 3, No. 21, September 13, 1969
Vol. 3, No. 22, September 20, 1969
Vol. 3, No. 23, September 27, 1969
Vol. 3, No. 24, October 4, 1969
Vol. 3, No. 25, October 11, 1969
Vol. 3, No. 26, October 18, 1969
Vol. 3, No. 27, October 25, 1969
Vol. 3, No. 28, November 1, 1969
Vol. 3, No. 29, November 8, 1969
Vol. 3, No. 30, November 15, 1969
Vol. 3, No. 31, November 22, 1969
Vol. 3, No. 33, November 29, 1969
Black Panther: Volume 4, 1969-1970
Vol. 4, no o. 1, December 6, 1969
Vol. 4, no o. 2, December 13, 1969
Vol. 4, no o. 3, July 25, 1970 (issue no o. printed on paper is incorrect)
Vol. 4, no o. 4, December 27, 1970
Vol. 4, no o. 5, January 3, 1970
Vol. 4, no o. 6, January 10, 1970
Vol. 4, no o. 7, January 17, 1970
Vol. 4, no o. 8, January 24, 1970
Vol. 4, no o. 8, January 31, 1970 (issue no o. printed on paper is incorrect)
Vol. 4, No. 9, February 9, 1970
Vol. 4, No. 10, February 17, 1970
Vol. 4, No. 12, February 21, 1970
Vol. 4, No. 13, February 28, 1970
Vol. 4, No. 15, March 15, 1970
Vol. 4, No. 16, March 21, 1970
Vol. 4, No. 17, March 28, 1970
Vol. 4, No. 19, April 11, 1970
Vol. 4, No. 20, April 18, 1970
Vol. 4, No. 22, April 25, 1970
Black Panther: Volume 5, 1970-1971
Vol. 5, No. 1, July 4, 1970 (issue date printed on paper is incorrect)
Vol. 5, No. 2, July 11, 1970 (issue No. printed on paper is incorrect)
Vol. 5, No. 7, August 15, 1970
Vol. 5, No. 8, August 21, 1970
Vol. 5, No. 9, August 29, 1970
Vol. 5, No. 1, September 5, 1970
Vol. 5, No. 11, September 12, 1970
Vol. 5, No. 13, September 26, 1970
Vol. 5, No. 14, October 3, 1970
Vol. 5, No. 15, October 10, 1970
Vol. 5, No. 16, October 17, 1970
Vol. 5, No. 17, October 24, 1970
Vol. 5, No. 18, October 31, 1970
Vol. 5, No. 19, November 7, 1970
Vol. 5, No. 20, November 14, 1970
Vol. 5, No. 21, November 21, 1970
Vol. 5, No. 22, November 28, 1970
Vol. 5, No. 23, December 5, 1970
Vol. 5, No. 24, December 14, 1970
Vol. 5, No. 25, December 19, 1970
Vol. 5, No. 26, December 26, 1970
Vol. 5, No. 27, January 2, 1971
Vol. 5, No. 28, January 9, 1971
Vol. 5, No. 29, January 16, 1971
Vol. 5, No. 30, January 23, 1971
Black Panther: Volume 6, 1971
Vol. 6, No. 1, January 30, 1971
Vol. 6, No. 2, February 6, 1971
Vol. 6, No. 3, February 13, 1971
Vol. 6, No. 4, February 20, 1971
Vol. 6, No. 5, February 27, 1971
Black Panther: Volume 7, 1971-1972
Vol. 7, No. 1, August 28, 1971
Vol. 7, No. 2, September 4, 1971
Vol. 7, No. 3, September 11, 1971
Vol. 7, No. 4, September 18, 1971
Vol. 7, No. 5, September 25, 1971
Vol. 7, No. 5, October 4, 1971 (issue number printed on paper is incorrect)
Vol. 7, No. 6, October 9, 1971
Vol. 7, No. 8, October 16, 1971
Vol. 7, No. 9, October 23, 1971
Vol. 7, No. 10, October 30, 1971
Vol. 7, No. 11, November 6, 1971
Vol. 7, No. 12, November 13, 1971
Vol. 7, No. 13, November 20, 1971
Vol. 7, No. 14, November 29, 1971
Vol. 7, No. 15, December 4, 1971
Vol. 7, No. 16, December 11, 1971
Vol. 7, No. 17, December 18, 1971
Vol. 7, No. 18, December 25, 1971
Vol. 7, No. 19, January 1, 1971
Vol. 7, No. 20, January 8, 1971
Vol. 7, No. 22, January 22, 1971
Vol. 7, No. 23, January 29, 1971
Vol. 7, No. 24, February 5, 1971
Vol. 7, No. 25, February 12, 1971
Vol. 7, No. 26, February 19, 1971
Vol. 7, No. 27, February 26, 1971
Vol. 7, No. 29, March 11, 1971
Vol. 7, No. 30, March 18, 1971
Black Panther: Volume 8, 1972
Vol. 8, No. 20, August 5, 1972
Vol. 8, No. 21, August 12, 1972
Vol. 8, No. 22, August 19, 1972
Vol. 8, No. 23, August 23, 1972
Vol. 8, No. 24, September 2, 1972
Vol. 8, No. 25, September 9, 1972
Vol. 8, No. 26, September 16, 1972
Vol. 8, No. 27, September 23, 1972
Vol. 8, No. 28, September 30, 1972
Vol. 8, No. 29, October 7, 1972
Vol. 8, No. 30, October 14, 1972
Black Panther: Volume 9, 1972
Vol. 9, No. 1,October 21, 1972
Vol. 9, No. 2, October 28, 1972
Vol. 9, No. 3, November 4, 1972
Vol. 9, No. 4, November 9, 1972
Vol. 9, No. 5, November 16, 1972
Vol. 9, No. 6, November 23, 1972
Vol. 9, No. 7, November 30, 1972
Vol. 9, No. 8, December 7, 1972
Vol. 9, No. 9, December 16, 1972
Vol. 9, No. 10, December 23, 1972
Vol. 9, No. 11, December 30, 1972
Black Panther: Volume 10, 1973
Vol. 10, No. 10, July 21, 1973
Vol. 10, No. 11, July 28, 1973
Vol. 10, No. 12, August 4, 1973
Vol. 10, No. 13, August 11, 1973
Vol. 10, No. 14, August 18, 1973
Vol. 10, No. 15, August 25, 1973
Vol. 10, No. 16, September 1, 1973
Vol. 10, No. 17, September 8, 1973
Vol. 10, No. 18, September 15, 1973
Vol. 10, No. 19, September 22, 1973
Vol. 10, No. 20, September 29, 1973
Vol. 10, No. 22, October 13, 1973
Vol. 10, No. 23, October 20, 1973
Vol. 10, No. 24, October 27, 1973
Vol. 10, No. 25, November 3, 1973
Vol. 10, No. 26, November 10, 1973
Vol. 10, No. 27, November 17, 1973
Vol. 10, No. 28, November 24, 1973
Vol. 10, No. 30, December 8, 1973
Black Panther: Volume 11, 1974
Vol. 11, No. 2, January 5, 1974
Vol. 11, No. 3, January 12, 1974
Vol. 11, No. 4, January 19, 1974
Vol. 11, No. 5, January 26, 1974
Vol. 11, No. 6, February 2, 1974
Vol. 11, No. 7, February 9, 1974
Vol. 11, No. 8, February 16, 1974
Vol. 11, No. 9, February 23, 1974
Vol. 11, No. 10, March 2, 1974
Vol. 11, No. 11, March 9, 1974
Vol. 11, No. 12, March 16, 1974
Vol. 11, No. 13, March 23, 1974
Vol. 11, No. 14, March 30, 1974
Vol. 11, No. 15, April 6, 1974
Vol. 11, No. 16, April 13, 1974
Vol. 11, No. 17, April 20, 1974
Vol. 11, No. 18, April 27, 1974
Vol. 11, No. 24, June 15, 1974
Vol. 11, No. 25, June 29, 1974
Vol. 11, No. 28, July 13, 1974
Vol. 11, No. 29, July 20, 1974
Black Panther: Volume 12, 1974
Vol. 12, No. 2, August 3, 1974
Vol. 12, No. 3, August 10, 1974
Vol. 12, No. 4, August 17, 1974
Vol. 12, No. 5, August 24, 1974
Vol. 12, No. 6, August 31, 1974
Vol. 12, No. 7, September 7, 1974
Vol. 12, No. 8, September 14, 1974
Vol. 12, No. 9, September 21, 1974
Vol. 12, No. 10, September 28, 1974
Vol. 12, No. 11, October 5, 1974
Vol. 12, No. 12, October 12, 1974
Vol. 12, No. 13, October 19, 1974
Vol. 12, No. 14, October 26, 1974
Vol. 12, No. 15, November 2, 1974
Vol. 12, No. 16, November 9, 1974
Vol. 12, No. 17, November 16, 1974
Vol. 12, No. 18, November 23, 1974
Vol. 12, No. 19, November 30, 1974
Vol. 12, No. 20, December 7, 1974
Vol. 12, No. 21, December 14, 1974
Vol. 12, No. 22, December 21, 1974
Vol. 12, No. 23, December 28, 1974
Vol. 12, No. 24, January 4, 1974
Vol. 12, No. 25, January 11, 1974
Vol. 12, No. 26, January 18, 1974
Vol. 12, No. 27, January 25, 1974
Vol. 12, No. 28, February 1, 1974
Vol. 12, No. 30, February 15, 1974
Black Panther: Volume 13, 1975
Vol. 13, No. 1, February, 1975
Vol. 13, No. 4, March 15, 1975
Vol. 13, No. 5, March 22, 1975
Vol. 13, No. 6, March 29, 1975
Vol. 13, No. 8, April 12, 1975
Vol. 13, No. 9, April 10, 1975
Vol. 13, No. 10, April 28, 1975
Vol. 13, No. 17, June 16, 1975
Vol. 13, No. 18, June 23, 1975
Vol. 13, No. 19, June 30, 1975
Vol. 13, No. 21, July 14, 1975
Vol. 13, No. 22, July 21, 1975
Vol. 13, No. 23, July 28, 1975
Vol. 13, No. 24, August 4, 1975
Vol. 13, No. 25, August 11, 1975
Vol. 13, No. 26, August 18, 1975
Vol. 13, No. 27, August 25, 1975
Vol. 13, No. 28, September 1, 1975
Vol. 13, No. 29, September 8, 1975
Vol. 13, No. 30, September 15, 1975
Black Panther: Volume 14, 1975
Vol. 14, No. 1, September 22, 1975
Vol. 14, No. 2, September 29, 1975
Vol. 14, No. 3, October 6, 1975
Vol. 14, No. 4, October 14, 1975
Vol. 14, No. 5, October 18, 1975
Vol. 14, No. 6, October 25, 1975
Vol. 14, No. 7, November 1, 1975
Vol. 14, No. 9, November 15, 1975
Vol. 14, No. 10, November 22, 1975
Vol. 14, No. 12, December 6, 1975
Vol. 14, No. 13, December 13, 1975
Vol. 14, No. 14, December 20, 1975
Vol. 14, No. 15, December 27, 1975
Vol. 14, No. 16, January 3, 1976
Vol. 14, No. 17, January 10, 1976
Vol. 14, No. 18, January 17, 1976
Vol. 14, No. 19, January 24, 1976
Vol. 14, No. 20, January 31, 1976
Vol. 14, No. 21, February 7, 1976
Vol. 14, No. 22, February 14, 1976
Vol. 14, No. 23, February 21, 1976
Vol. 14, No. 24, February 28, 1976
Vol. 14, No. 25, March 6, 1976
Vol. 14, No. 26, March 13, 1976
Vol. 14, No. 27, March 20, 1976
Vol. 14, No. 28, March 27, 1976
Vol. 14, No. 29, April 3, 1976
Vol. 14, No. 30, April 10, 1976
Black Panther: Volume 15, 1976
Vol. 15, No. 1, April 17, 1976
Vol. 15, No. 2, April 24, 1976
Vol. 15, No. 10, June 19, 1976
Vol. 15, No. 11, June 26, 1976
Vol. 15, No. 13, July 10, 1976
Vol. 15, No. 14, July 17, 1976
Vol. 15, No. 15, July 24, 1976
Vol. 15, No. 17, August , 1976
Vol. 15, No. 18, August , 1976
Vol. 15, No. 19, August , 1976
Vol. 15, No. 20, August , 1976
Vol. 15, No. 21, September , 1976
Vol. 15, No. 22, September , 1976
Vol. 15, No. 23, September , 1976
Vol. 15, No. 24, September , 1976
Vol. 15, No. 25, October , 1976
Vol. 15, No. 26, October , 1976
Vol. 15, No. 27, October , 1976
Vol. 15, No. 28, October , 1976
Vol. 15, No. 29, October , 1976
Vol. 15, No. 30, November , 1976
---