C L R James and Raya Dunayevskaya 1947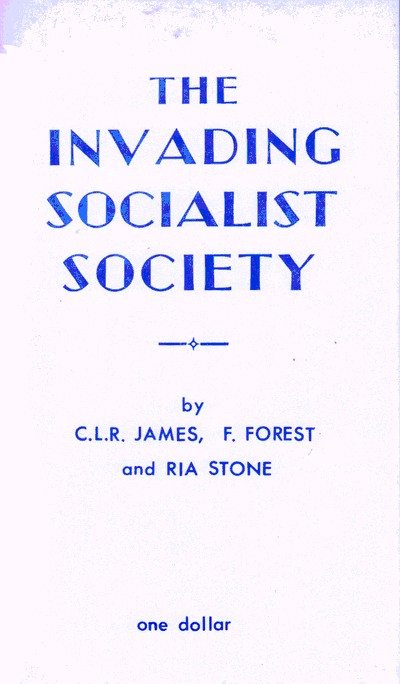 The Invading Socialist Society
---
Source: The Invading Socialist Society by C.L.R. James, F. Forest and Ria Stone. 2nd Edition, Copyright 1972 by Bedwick Editions, 1443 Detroit Mich. 48214;
First published: 1947;
Transcribed: by Damon Maxwell.
---
CONTENTS
Preface to the Second Edition by C L R James 1972
CHAPTER I – WORLD WAR II AND SOCIAL REVOLUTION
(a) Trotsky 1940, Germain 1947
(b) The Historical Role of the Fourth International
(c) The Mass Movement Today
(d) The Communist Parties in Western Europe
1. The Proletarian and Revolutionary Character of the Stalinist Parties
2. The Bourgeois and Counter-Revolutionary Character of the Stalinist Parties
(e) The Nature of the Party 1947
CHAPTER II – THE STATE AND REVOLUTION
(a) The Revolution Thirty Years After
(b) The State Thirty Years After
(c) The Communist Parties of Russia and Eastern Europe
CHAPTER III – IMPERIALISM THIRTY YEARS AFTER
(a) "Vast state-capitalist and Military Trusts and Syndicates"
(b) American Imperialism
(c) The Interweaving of Imperialist, Civil and National wars
CHAPTER IV – POLAND-WHERE ALL ROADS MEET
CHAPTER V – PARTIES, TENDENCIES AND PROGRAMS IN THE FOURTH INTERNATIONAL
(a) Sectarianism Today
(b) Menshevism Today
(c) Economism
(d) The Method of Bolshevism
(e) The Transitional Program Today
Appendix: The Political Economy of Germain.
NB. "Germain" is Ernest Mandel
---