The Triangle Fire 1911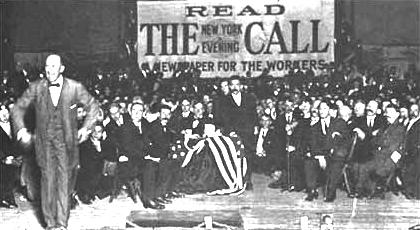 Be Ready Wednesday!
---
Source: The Call, April 3, 1911;
Transcribed: by Mitch Abidor.
---
Arise, working men and women of this great city!
Harken to the heart-rendering cries of the bereaved parents, of the parentless children!!
A terrible calamity has overtaken us all — hundreds of our toiling sisters and brothers, all in the bloom of life, were torn away from us without a moments' warning.
Arise, working people, the blow comes right home to you!
These victims might not have been your blood relatives, but such fate is liable to undertake your own kin any day.
Day in and day out we working people spend our lives in fire traps, and there are none to protect us from a similar fate if we ourselves will not at least send forth a threatening cry of protest.
The funeral of the innocent victims is the proper and only moment for this protest. Lay down your tools, shake the dust of the mills and factories from your feet, and come in answer to our call.
Come to join the toiling multitude who will on this mournful day remember the dead.
Let our demonstration be the writing on the wall to all those who go on sacrificing human lives and human blood for the sake of gain.
---